Housing Guide
Campus and Neighborhood Life
The School of Continuing Studies is located in Chinatown, one of the most accessible areas of Washington, D.C. With a perfect Transit Score of 100, our campus is located within a four-block radius of all six Metro Rail lines, countless Metro Bus stops, the DC Circulator, and more than 3,000 parking spaces. Additionally, with a Walk Score of 99—a "walker's paradise"—our community is a convenient, walkable neighborhood full of amenities and local culture. Please check out our comprehensive housing guide to find information about how to secure housing in DC, including apartment listings, tips for searching, and helpful resources. Additionally, we have included details below on some of the different neighborhoods in and around campus.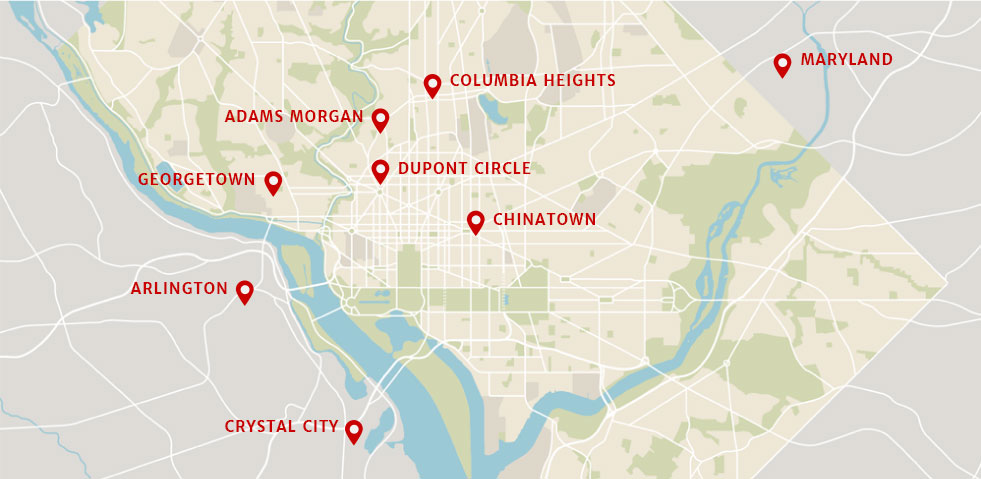 Off-Campus Housing
Helpful resources and tips for finding roommates and housing off-campus are provided by the Office of Neighborhood Life. Begin your housing search with OCHListings. Join the Georgetown Housing Facebook group to see postings about available apartments, open rooms, furniture, and more.
Looking for convenience? Georgetown recently partnered with WeLive to offer fully-furnished apartments to students in Crystal City, Virginia. Check out some of the WeLive listings to see if it might be right for you!
Additionally, check out the 4stay platform to search for rooms and homes around our campus. Georgetown University does not work directly with this company. Students should apply directly through 4stay.
Please visit the Georgetown Office of Global Services Off-Campus Housing Guide for more detailed resources.
On-Campus Housing
On-campus housing is available but not guaranteed. Please email our student services team at guelc@georgetown.edu if you are interested in on-campus housing.
Homestay
If you are interested in finding out what life is like with an American family, a homestay is a great option. Check out the Student Roomstay to find a homestay. Georgetown University does not work directly with any company. Students should apply directly through the homestay website.